Over the past 10-15 years in kitchen design, dedicated trash pull-out cabinets have become super common. Along with fridge surrounds and kitchen islands, the trash pull-out is almost a given.
But should it be?
People with smaller kitchens or limited cabinet space should think twice before installing a dedicated trash pull-out cabinet. Here's why (and what to do instead).
Why are trash pull-out cabinets so popular?
I'm not knocking trash pull-outs. They give your trash can an isolated, closed box to contain mess and smells. And if the cabinet is big enough, you can often fit a second bin for recycling which is a win for tidiness and floor space.
If you have plenty of cabinet space to store your kitchen essentials and you can spare the cabinet, go for it.
When cabinet space is limited
However, I often see homeowners with very limited cabinet space installing trash pull-outs and it's such a lost opportunity. If you have a small kitchen, you get more storage space using that cabinet for pantry goods, pots, pans, or dishes instead. That leaves you a couple of solid options for your trash can:
Use the sink cabinet
This tried-and-true solution is still a great way to maximize storage space in the kitchen. Most sink cabinets are 36" wide and can fit two 13-gallon bins. Our sink cabinet holds our trash bin, recycling bin, extra trash bags, cleaning supplies, and dish supplies (and we even have a garbage disposal taking up space). This is the right move for our kitchen where storage space is at a premium, but pulling the can in and out, dragging it along the shelf paper liner can be annoying.
An answer to that problem is you can install trash pull-out hardware in one side of your sink cabinet, which gives you best-of-both-worlds functionality (I don't know why I haven't done this):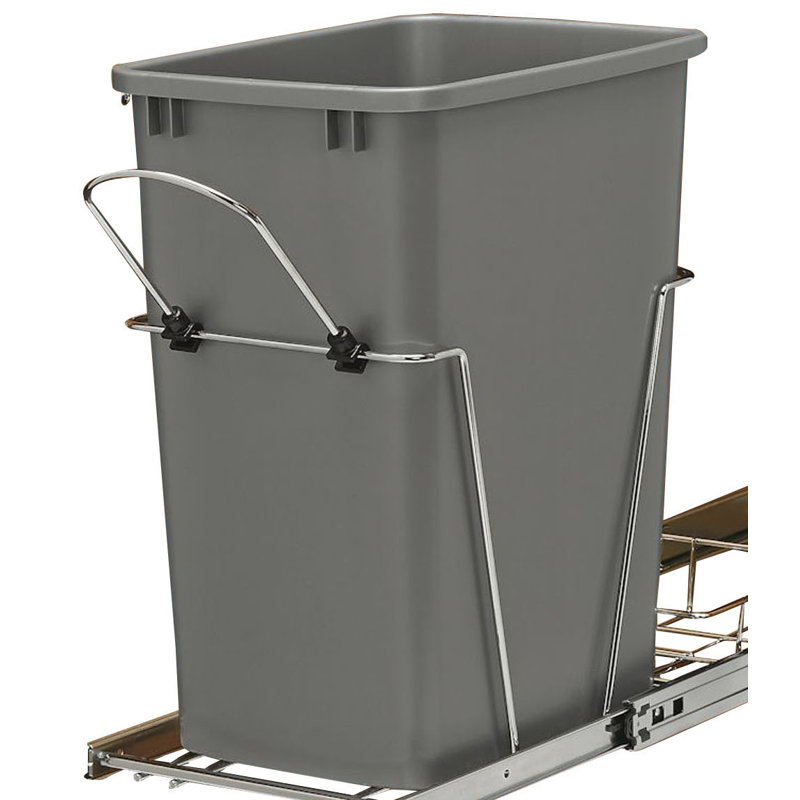 Here's one from Rev-a-Shelf I found on Wayfair
Freestanding
A lot of kitchens have a dead corner or section of wall where trash and recycling bins can be conveniently placed. Some homeowners prefer this because you can fit a taller can. If this is the route you take, you don't have to sacrifice style! We have an attractive pair of freestanding trash cans at our office. They were a little more expensive and use special garbage bags, but it's a good solution if you need something attractive.
Don't just take it for granted
Bottom line, like any other kitchen design decision, a dedicated trash cabinet pull-out should be your choice if it truly fits the bigger design picture and you have plenty of storage space elsewhere. But if you simply follow the trend, you may wish you had that extra cabinet for actual cooking supplies!
---
Planning a kitchen renovation? You need our free PDF Kitchen Kick-Start guide! 
Click here for instant access